Ikastaria. Cuadernos de Educación
Kirol Hezitzailea. Gogoetak eta Ekarpenak = Deporte educativo. Reflexiones y Aportaciones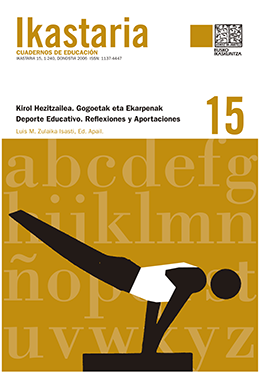 Author[s]: Luis M. Zulaika Isasti, Ed. Apail.
Publication year:

2006

Publication place:

Donostia

Characteristics:

240 or. ; ir. 24 cm. - Non: Ikastaria. Cuadernos de Educación

ISBN:

978-84-8419-059-2

ISSN:

1137-4447
Summary
The objective attributed to children?s sport by society and what society demands from it has changed over the last few years. In order to reflect on this we organised a conference in the Miramar Palace in Donostia. We have made this article with the motions that were presented there. In this issue no. 15 of Ikastaria, we compare different criteria and we attempt to reach a more complete outlook and approach positions. We believe this is a valuable contribution towards the process of confirmation of a convergent model, which, to a certain extent at least, will satisfy the existing and diverse interests.

Articles
Title