Vasconia. Cuadernos de Historia-Geografía
Vasconia. Cuadernos de Historia-Geografía, 42 [on line]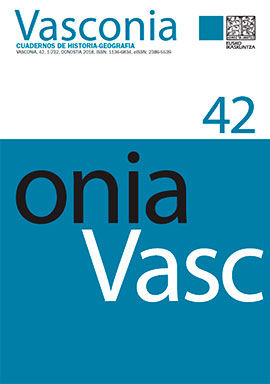 Author[s]: Mendieta Garrote, Eva [et al.]
Publication year:

2018

Publication place:

Donostia-San Sebastián

Characteristics:

BIBLID [1136-6834, eISSN: 2386-5539 (2018), 42; 1-232]; on line

ISSN:

1136-6834; eISSN: 2386-5539
Summary
La publicación del número 42 de Vasconia, correspondiente a 2018, se va consolidando como una publicación anual para la difusion de las siguientes investigaciones históricas vascas. Por ello, va a comenzar a gestionarse mediante la plataforma OJS: http://ojs.eusko-ikaskuntza.eus/index.php/vasconia/index. En este número se recogen seis investigaciones: El discurso de las mujeres en la matxinada de 1631, la cultura republicana en Gipuzkoa en el siglo XX, la biografía de un médico de Baiona, la ocupación de Beasain y Mondragon por los carlistas y el ejército franquista en 1936, la crisis de los pastores vascos en el Oeste norteamericano y la fundación de la Asociación de Amigos del Museo de Bellas Artes de Bilbao. Asimismo se publican dos recensiones de los siguientes libros: Hektor Ortega, Tretatxu, Lapurren Gobernadorea. XVIII mendeko bandolero, gaizkile eta heroia y Belaustegi, Unai: Errepublikanismoa Gipuzkoan (1868-1923).
La publicación del número 42 de la revista Vasconia se ha realizado por la generosa ayuda del grupo de investigación consolidado de la UPV/EHU, Biography & Parliament.
---


In collaboration with the Universidad del País Vasco/Euskal Herriko Unibertsitatea.
Articles
Title