Ondare. Cuadernos de Artes Plásticas y Monumentales
Ondare. Cuadernos de Artes Plásticas y Monumentales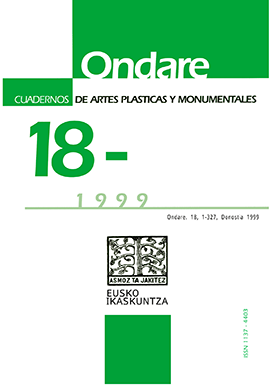 Author[s]: Fernández de la Cigoña Cantero, Isabel... [et al.]
Publication year:

1999

Publication place:

Donostia

ISSN:

1137-4403
Summary
Fernández de la Cigoña, Isabel: Silvestre Pérez, arquitecto del Puerto de la Paz. -Hernando Rubio, M? José; Sáenz de Urturi Rodríguez, Paquita; Aretxaga Alegría, Susana: Estudio comparativo del patrimonio urbanístico y monumental en las seis villas de frontera: Salinillas de Buradón. Labastida, San Vicente de la Sonsierra. Laguardia, Labranza y Viana (2? parte). Labeaga, Juan Cruz: Los talleres de platería de Sangüesa (Navarra). Los plateros. Lahoz, M. Lucía: Contribución al estudio de la Portada de Santa María la Real de Olite. Leis Alava, Ana Isabel: Estudio histórico-artístico de las casas consistoriales desaparecidas de Bilbao (Villa y anteiglesias). Lertxundi Galiana, Mikel: Los retratos de Miguel López de Legazpi. Martín Vaquero, Rosa: En torno a Rafael de Ballerna, un desconocido platero vitoriano: su testamento. Martínez de Aguirre Aldaz, Javier: Hallazgos de pinturas murales góticas en la iglesia de San Juan de Larrínzar (Alava). Ordoñez Vicente, María: Una aproximación al estudio de la arquitectura regionalista en Gipúzcoa. Paliza Monduate, Maite: El arquitecto Eladio Iturria y el Cementerio de Trucios. Pérez de la Peña Oleaga, Gorka: Ismael Gorostiza, una figura clave del modernismo Bizkaino, 1908-1915. Rodríguez Pelaz, Celia: La danza de la muerte en los impresos navarros de los siglos XVI y XVII. RESEÑAS. Juan de la Encina, La trama del arte vasco (Agustín Gómez Gómez). Analytic Summary.
In this long-awaited issue n? 18 of ONDARE we can read for the first time on architecture even though of somewhat varied nature: the studies corresponding to three architects like Silvestre Pérez, Eladio Iturria and Ismael Gorostiza; the analysis of historical and monumental urban patrimony in siz frontier towns; the formal characteristics of town council halls, which have now disappeared in Bilbao and finally, an approximation to regionalist architecture in Gipuzkoa.
The Notebook ends with two essays on silversmithery, the first of them on the workshops in Sangüesa (Navarra) and the second on the testament of the silversmith Rafael de Ballerna, from Vitoria. Other interesting essays deal with the iconographic program of the Gothic frontispiece of Santa María La Real in Olite (1253-1270). The composition found there tends to be repeated in other areas of Navarre. Also included is an essay on the finding of some Gothic mural paintings in the church of San Juan Bautista in Larrínzar (Alava): 8 animal heads and 14 small circular pictures. The results the study on the initials used in navarran books during the 16th and 17th centuries on the topic of the Dance of Death is especially attractive and original.

Articles
Title