Eleria, Euskal Herriko Legelarien Aldizkaria
Zuzenbidearen klasikoak, 1. Zuzenbidearen teoriak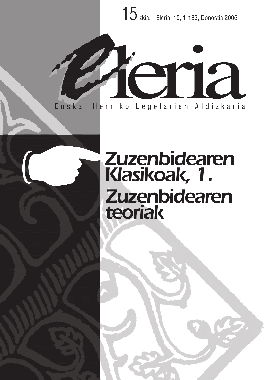 Author[s]: Itziar Alkorta? [et al.].
Publication year:

2007

Publication place:

Donostia

Characteristics:

183 or. : ir. ; 30 cm.

ISBN:

978-84-8419-056-1

ISSN:

1137-1951
Summary
In its issue no. 15, Eleria brings us a special publication. From one issue to another and over the years, Eleria has asked specialists to take us to the sources of reflections on Law in search of the fundamental texts on the phenomenon of Law. The first monographic issue of the Zuzenbidearen Klasikoak collection gathers all such texts. The responsibility of this compilation on Theories of Law has fallen on José Ignacio LACASTA, Professor of Philosophy of Law, and Joxerramon BENGOETXEA, Director of the Oñate International Institute of Legal Sociology. In this compilation, there is a compilation of key texts of current Law which are presented with an in-depth introduction. Among the authors of the selected texts are Savigny, representative of the Historical School of Law, and some of his antagonists like Ihering, and also certain noteworthy contemporary jurists like Dworkin. In this issue, therefore, Eleria provides the main works of reference for any Basque-speaking jurist wishing to reflect on the phenomenon of Law.
Articles
Title