Eleria, Euskal Herriko Legelarien Aldizkaria
Eleria. Euskal Herriko Legelarien Aldizkaria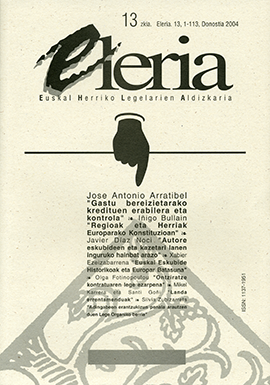 Author[s]: Arratibel Arrondo, Jose Antonio [et al.]
Publication year:

2005

Publication place:

Donostia

ISSN:

1137-1951
Summary
GAIAK.
Arratibel Arrondo, Jose Antonio: Gastu bereizieta kredituen erabilera eta kontrola: euskal ogasun sistema juridikoaren kasua
Bullain López, Iñigo: Regioak eta Herriak Europako Konstituzioan
Díaz Noci, Javier: Autore-eskubideen eta kazetari-lanen inguruko hainbat arazo: kopia probatu, ordainsariak, lege-salbuespenak eta prentsa-laburpenak
Ezeizabarrena Sáenz, Xabier: Euskal Eskubide Historikoak eta Europar Batasuna
Fotinopoulou Basurko, Olga: Ontziratze kontratuaren lege ezarpena
Karrera Egialde, Mikel M.; Goñi Zabala, Santi: Landa-errentamenduak: 2003ko azaroaren 26ko Lege berria
Zubizarreta García, Silvia:Adingabeen erantzukizun penala arautzen duen Lege Organiko berria. Kautela neurriak.
ELKARRIZKETAK
Poiares Maduro, Miguel: Europar Batasuneko Justizia Auzitegiko abokatu nagusia
Urrutia Badiola, Andres: Deustuko Unibertsitateko Zuzenbide Zibileko irakaslea, notarioa eta Euskaltzainburua.
KRONIKAK ETA IRUZKINAK
Zanarruzabeitia Alonso, Leire: Itsas Zuzenbideko Hiztegia
Berriak. Albisteak. Bibliografia. Bidean dauden LegeakSumario. Sommaire. Analytic Summary.
Thematic abundance and the quality of doctrinal articles are the hallmark of the thirteenth issue of the Eleria law journal, published in its entirety in Basque. José Antonio Arratibel analysed Empleo y control de los créditos para los gastos reservados: el caso del sistema jurídico de la hacienda vasca; (Employment and credit control for classified expenses in the juridical system of Basque finance) Iñigo Bullain studied the Regiones y pueblos en la Constitución para Europa; (Regions and peoples in the Constitution for Europe) Javier Díaz Noci wrote Algunos problemas de los derechos de autor y de los trabajos periodísticos: la copia privada, la remuneración, las excepciones legales y los resúmenes de prensa; (Some copyright-related problems in journalism: private copies, remuneration, legal exceptions and press dossiers) Xabier Ezeizabarrena wrote on Derechos Históricos vascos y la Unión Europea; (Basque historic rights and the European Union) Olga Fotinopoulou analysed the La normativa aplicable al contrato de embarque; (Applicable norms in lading contracts) Mikel Karrera and Santi Goñi both wrote about Los arrendamientos rústicos en la nueva Ley del 26 de noviembre de 2003, (Rustic real estate renting in the new Law dated 26th November 2003) and Silvia Zubizarreta analysed the new Ley Orgánica reguladora de la responsabilidad penal de los menores y las medidas cautelares (Organic Law regulating penal responsibility for minors and cautionary measures). Also included are interviews with Miguel Poiares Maduro, Attorney General of the European Union Court of Justice, and Andres Urrutia Badiola, professor of Civil Law in Deusto University, Notary Public and Chair of Euskaltzaindia ? the Royal Academy of the Basque Language.
Articles
Title