Vasconia. Cuadernos de Historia-Geografía
Vasconia. Cuadernos de Historia-Geografía, 43 [on line]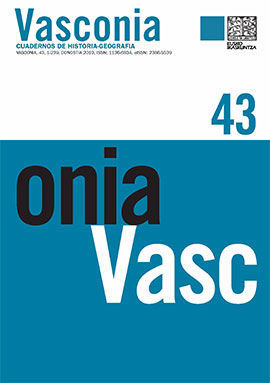 Author[s]: Belaustegi, Unai (ed.); Mentxaka Elexpe, Rosa María [et al.]
Publication year:

2019

Publication place:

Donostia-San Sebastián

Characteristics:

BIBLID [1136-6834, eISSN: 2386-5539 (2019), 43; 1-239]; on line

ISSN:

1136-6834; eISSN: 2386-5539
Summary
La publicación del número 43 de la revista Vasconia. Cuadernos de Historia-Geografía, correspondiente al año 2019, sigue los pasos de los números precedentes en la consolidación y difusión de las investigaciones históricas. Este número mantiene la política de publicar la revista a través de la plataforma Open Journal (OJS). En total, el número 43 recoge 7 artículos que han superado la evaluación de dos evaluadores exteriores. Aunque los artículos vienen firmados por investigadores de todas las edades, sobresale quizás la presencia de jóvenes investigadores que, han ofrecido un amplio abanico temático: Las ordenanzas del Consulado de Bilbao del siglo XVIII, Bilbao durante la última guerra carlista, el Concierto Económico durante el primer tercio del siglo XX, la moda en San Sebastián durante la primera mitad del siglo XX, el Ateneo de Bilbao durante la dictadura de Franco, la crisis de empleo durante la década de 1930 y el parlamento español durante la Transición.
Además, el número incluye dos reseñas. La primera, analiza el libro publicado por Aritz Onaindia sobre la prosopografía de los parlamentarios vascos durante la Transición (2018), y la segunda, está dedicada al libro colectivo coordinado por Sebastià Serra y Elisabeth Ripoll sobre las identidades nacionales y nacionalismos en el Estado español (2019).
La publicación del número 42 de la revista Vasconia se ha realizado por la generosa ayuda del grupo de investigación consolidado de la UPV/EHU, Biography & Parliament.
---


In collaboration with the Universidad del País Vasco/Euskal Herriko Unibertsitatea.
Articles
Title