Zainak. Cuadernos de Antropología-Etnografía
Cultura y sociedades marítimas: prácticas específicas, sistemas técnicos, sociales y de representación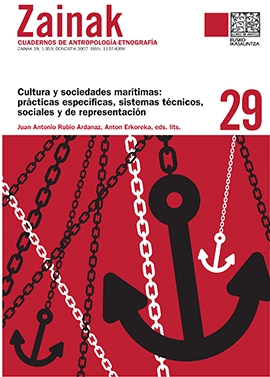 Author[s]: Rubio-Ardanaz, Juan Antonio; Erkoreka, Antón eds. lits.
Publication year:

2007

Publication place:

Donostia

Characteristics:

353 or. : ir. ; 24 cm.

ISBN:

84-9419-010-2

ISSN:

1137-439X
Summary
The maritime sphere has a clear rhythm of life, which is characterised by rapid change and sometimes by a vertiginous career, depending on new economic and material incidences. Such incidences also affect other fields of culture. Maritime anthropology has not ignored this situation, in which we find its protagonists trying to base their daily lives on the resources provided by the sea. From this perspective, these pages include a series of specific practices, technical, social and representation systems, put into practice by those members of professional groups, communities and societies, which occupy, exploit, seize and distribute the sea, its resources and its products.

Articles
Title