Jentilbaratz. Cuadernos de Folklore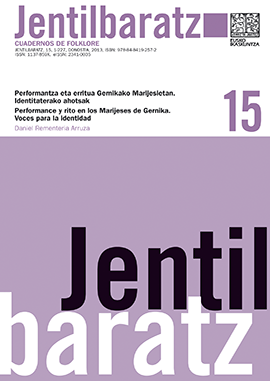 The Eusko Ikaskuntza-Basque Studies Society Section Notebooks were created in 1982, as a serial publication to divulge research and fieldwork carried out by the researchers of the various Scientific Sections. These also include monographic issues that include conference minutes, research scholarships and homages. The Notebooks are directed to researchers, university students and all those who are interested in corresponding subject matter. Each series is directed by its own Board of Editors.
The first "Cuadernos de Sección. Folklore" is published in 1983. The first 5 issues appeared with this title (1983-1994). As from issue n?. 6 (1997) its denomination is changed to Jentilbaratz. Cuadernos de Folklore.
As from 2012, the, Jentilbaratz. Cuadernos de Folklore is published in a digital format and items can be read and downloaded free.

Regulations for the presentation of originals
Director: Emilio Xabier Dueñas. Eusko Ikaskuntza. Bilbao
Consejo de Redacción: Josu E. Larrinaga. IES Botikazar. Bilbao Aritz Martin Bosch. Txorierri BHI.Derio Karlos Sanchez Ekiza. UPV-EHU. Vitoria-Gasteiz
Publications Secretariat: Eva Nieto. Eusko Ikaskuntza. Donostia
Scientific Committee: Jon Bagüés Erriondo. Eresbil. Errenteria. Joaquín Díaz González. Fundación Joaquín Díaz. Urueña. Kepa Fernández de Larrinoa. Univ. Pública de Navarra. Pamplona-Iruñea. José I. Homobono Martínez. UPV/EHU. Bilbo. Iñaki Irigoien Etxebarria. Eusko Ikaskuntza. Bilbo. Fermín Leizaola. Sociedad de Ciencias Aranzadi. Donostia. Ramón A. Pelinski Teminski. Univ. de Montreal. Montreal (Canadá). Joan Prat Carós. Univ. Rovira i Virgili. Tarragona. Juan J. Prat Ferrer. IE University. Segovia. Kazuyuki Taketani. Univ. de Kobe. Kobe (Japón).
List of collection's publications