Fuentes Documentales Medievales del País Vasco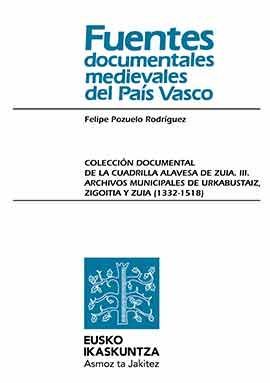 Fuentes documentales medievales del País Vasco collection began to be published in 1982. The objective is to transcribe and print medieval documentation from the early Middle Ages up to the 16th century, in selected archival units.
The methodology used is twofold: historic and palaeographic; and the choice of one documentation or another is left to the criteria of the researcher, fully respecting his criterion and methodology.
Director:
Mª Rosa Ayerbe Iribar. Univ. del País Vasco. Donostia
Editorial Board:
Francis Brumont. Université de Toulouse-Le Mirail. Toulouse
Victoriano José Herrero Liceaga. Univ. de Deusto. Donostia
Maite Lafourcade. Université de Pau et des Pays de l'Adour. Baiona
José Angel Lema Pueyo. Univ. del País Vasco. Vitoria-Gasteiz
José Luis de Orella Unzué. Univ. de Deusto. Donostia
Felipe Pozuelo Rodríguez. Eusko Ikaskuntza. Bilbao
Aingeru Zabala Uriarte. Univ. de Deusto. Bilbao
Publicatins Secretariat:
Eva Nieto. Eusko Ikaskuntza. Donostia

List of collection's publications
| Title | Number | Date |
| --- | --- | --- |
| Colección Documental de la Cuadrilla alavesa de Zuia. III. Archivos Municipales de Urkabustaiz, Zigoitia y Zuia (1332-1518) | 154 | 2020 |
| Archivo General de Simancas. Registro General del Sello. Vizcaya (1488) | 153 | 2017 |
| Archivo Municipal de Azkoitia II (1501-1530) y Libro de Cuentas (1501-1550) | 152 | 2017 |
| Colección Documental del Archivo Municipal de Hondarribia. Tomo IV (1499-1537) | 151 | 2014 |
| Colección Documental del Archivo Municipal de Hondarribia. Tomo III (1374-1520) | 150 | 2013 |
| Colección Documental de la Cuadrilla Alavesa de Zuia. II. Archivos Municipales de Arratzua-Ubarrundia y Legutio | 149 | 2013 |
| Documentación medieval del Archivo Municipal de Oiartzun. III. 1320-1520 | 148 | 2013 |
| Documentación medieval de los archivos municipales de Pasaia y Lezo (1361-1520) | 147 | 2013 |
| Archivo Municipal de Ataun (1268-1519) | 146 | 2013 |
| Documentación Medieval del Archivo Municipal de Oiartzun. II. Pleito de los ferrones (1328-1514) | 145 | 2012 |
| Documentos de Gipuzkoa en la Sección Cámara-Pueblos del Archivo General de Simancas | 144 | 2012 |
| Documentación Medieval del Archivo Municipal de Oiartzun. I. Libros de estimaciones fiscales de vecinos y bienes raíces (1499-1520) | 143 | 2011 |
| Fuentes Medievales del Archivo Municipal de Hernani. (1379-1527) | 142 | 2011 |
| Archivo Municipal de Salvatierra-Agurain. Tomo IV (1501-1521). Apéndice 1259-1469 | 141 | 2010 |
| Archivo de la Real Chancillería de Valladolid. Registro de Ejecutorias Emitidas. Vizcaya (1486-1502). Registros 1 a 20 | 140 | 2010 |
| Documentación medieval del Archivo Municipal de Zumaia (1256-1520) | 139 | 2009 |
| Documentación medieval de los Archivos Municipales de Urretxu (1310-1516) y Zumarraga (1202-1518) | 138 | 2009 |
| Archivo General de Simancas. Registro General del Sello. Vizcaya (1487) | 137 | 2008 |
| Archivo Municipal de Zestoa (1338-1520) | 136 | 2008 |
| Archivo Foral de Bizkaia. Sección Notarial (1459-1520). Consulado de Bilbao (1512-1520) | 135 | 2007 |
| Colección Documental del Archivo Municipal de Bergara. III. Fondo Iturbe-Eulate (1401-1520) | 134 | 2007 |
| Colección Documental del Archivo Municipal de Bergara II. Fondo Municipal: Subfondo Histórico (1355-1520) | 133 | 2007 |
| Archivo Municipal de Salinas de Añana - Gesaltza. Libro de Elecciones, Acuerdos y Cuentas (1506-1531) | 132 | 2007 |
| Archivo Municipal de Salinas de Añana - Gesaltza. Documentos (1400-1517) | 131 | 2007 |
| Fuentes Medievales del Archivo Municipal de Mutriku (1237-1520) | 130 | 2007 |
| Archivo General de Navarra. Sección de Comptos. Registro Nº 7 (1300) | 129 | 2006 |
| Archivo Foral de Bizkaia Sección Municipal. Documentación Medieval (1326-1520) | 128 | 2006 |
| Documentación Medieval del Archivo Municipal de Segura. Tomo III (1450-1521) | 127 | 2006 |
| Archivo Foral de Bizkaia. Sección Judicial. Documentación Medieval (1284-1520) | 126 | 2006 |
| Documentación Medieval de la Cuadrilla de Salvatierra: Municipios de Alegría-Dulantzi, Barrundia, Elburgo-Burgelu e Iruraiz-Gauna | 125 | 2005 |
| Archivo Municipal de Deba. II. Libro de Apeos y Ventas de Tierras Concegiles. (1482-1483) | 124 | 2005 |
| Archivo Municipal de Deba. I. (1181-1520) | 123 | 2005 |
| Documentación Municipal de la Cuadrilla de Salvatierra: municipio de San Millán-Donemiliaga (1214-1520) | 122 | 2004 |
| Archivo General de Navarra. (1349-1387). V. Documentación Real de Carlos II (1368-1369) | 121 | 2003 |
| Archivo General de Simancas. Registro General del Sello. Vizcaya (1485-1486) | 120 | 2003 |
| Archivo General de Simancas. Registro General del Sello. Vizcaya (1484) | 119 | 2002 |
| Archivo General de Simancas. Registro General del Sello. Vizcaya (1483) | 118 | 2002 |
| Archivo General de Simancas. Registro General del Sello. Vizcaya (1480-1482) | 117 | 2002 |
| Archivos Municipales (1260-1520): Antzuola (1489-1497), Aretxabaleta (1506), Eskoriatza (1260-1519) y Leintz-Gatzaga (Salinas de Léniz) (1372-1516) | 116 | 2002 |
| Archivo Municipal de Salvatierra-Agurain. Tomo III. (1451-1500) | 115 | 2002 |
| Archivo General de Simancas. Registro General del Sello. Vizcaya (1478-1479) | 114 | 2002 |
| Archivo General de Simancas. Registro General del Sello. Vizcaya (1475-1477) | 113 | 2002 |
| Archivo Municipal de Elgueta (1181-1520) | 112 | 2002 |
| Archivo Municipal de Tafalla (1157-1540) | 111 | 2001 |
| Archivo Municipal de Oñati. Tomo III (1496-1504)#110 | 110 | 2001 |
| Documentación Municipal de la Cuadrilla de Salvatierra: municipios de Asparrena y Zalduondo (1332-1520)#109 | 109 | 2001 |
| Colección Documental del Archivo Histórico de Bilbao (1514-1520)#108 | 108 | 2001 |
| Archivo General de Navarra (1349-1387) IV. Documentación Real de Carlos II (1366-1367)#107 | 107 | 2001 |
| Archivo General de Navarra. Sección de Comptos. Registro Nº 6 (1294)#106 | 106 | 2000 |
| Archivo General de Navarra. Sección de Comptos. Registro Nº 5 (1291)#105 | 105 | 2000 |
| Archivo General de Navarra. Sección de Comptos. Registros Nº 3 y 4#104 | 104 | 2002 |
| Archivo General de Navarra. Sección de Comptos. Registro Nº2 (1280)#103 | 103 | 2000 |
| Archivo General de Navarra. Sección de Comptos. Registro Nº 1 (1259 y 1266)#102 | 102 | 2000 |
| Archivo Municipal de Tafalla. Libros de Actos y Ordenanzas de la Villa de Tafalla (1480-1509)#101 | 101 | 2000 |
| Archivo Municipal de Tafalla. Registro del notario Rodrigo de Subiza (1489-1491)#100 | 100 | 2000 |
| Archivo Municipal de Tafalla. Libro de Cuentas de la Iglesia de San Sebastián (1486-1509)#099 | 99 | 2000 |
| Colección Documental del Archivo Histórico de Bilbao (1501-1514)#098 | 98 | 2000 |
| Archivos Municipales de Eibar (1409-1520) y de Soraluze/Placencia de las Armas (1481-1520)#097 | 97 | 2000 |
| Documentación medieval del Archivo Municipal de Pamplona (1357-1512). II#096 | 96 | 2000 |
| Colección Documental del Archivo Histórico de Bilbao (1473-1500) | 95 | 1999 |
| Archivo Municipal de Elgoibar (1346-1520) | 94 | 1999 |
| Colección Documental de la Cuadrilla alavesa de Zuia. I. Archivo Municipal de Aramaio | 93 | 1999 |
| Archivo General de Navarra (1349-1387) III. Documentación Real de Carlos II (1364-1365) | 92 | 1999 |
| Archivo Municipal de Oñati. Tomo II (1494-1520) | 91 | 1999 |
| Colección Documental del Archivo Histórico Municipal de Bilbao (1300-1473) | 90 | 1999 |
| Archivo General de Navarra (1194-1234) | 89 | 1998 |
| Documentación de la cuadrilla de Campezo: Arraia Maeztu, Bernedo, Campezo, Lagran y Valle de Arana (1256-1515) | 88 | 1998 |
| Archivo Municipal de Mondragón. Tomo VI. Libro de cuentas del concejo. 1501-1520. Copias de Acuerdos de las Juntas Generales de Gipuzkoa. 1510-1520 | 87 | 1998 |
| Archivo Municipal de Mondragón. Tomo V. Libro 2. Copia de Privilegios Antiguos (1217-1520) | 86 | 1998 |
| Archivo General de Navarra (1234-1253) II. Comptos y Cartularios Reales | 85 | 1998 |
| Documentación medieval del Archivo Municipal de Pamplona (1129-1356) | 84 | 1998 |
| Archivo Municipal de Salvatierra-Agurain. Tomo II. (1401-1450) | 83 | 1998 |
| Archivo General de Navarra (1349-1387). II. Documentación Real de Carlos II (1362-1363) | 82 | 1998 |
| Archivo General de Navarra (1322-1349). II | 81 | 1998 |
| Documentación medieval del monasterio de San Pedro de Ribas de Pamplona (siglos XIII-XVI) | 80 | 1998 |
| Foguera-Vecindario de las Villas de Vizcaya 1514 | 79 | 1997 |
| Foguera-Vecindario de las Villas de Vizcaya de 1511 | 78 | 1997 |
| Archivo General de Navarra (1134-1194) | 77 | 1997 |
| Archivo General de Navarra (1349-1387) I. Documentación Real de Carlos II (1349-1361) | 76 | 1997 |
| Archivo General de Navarra (1274-1321). II | 75 | 1997 |
| Archivo General de Navarra (1322-1349). I. Documentación Real | 74 | 1997 |
| Documentación medieval del monasterio de Santa Engracia de Pamplona (Siglos XIII-XVI) | 73 | 1997 |
| Colección Documental del Archivo Municipal de Rentería. Tomo II (1470-1500)#072 | 72 | 1997 |
| Repartimientos y Foguera-Vecindario de Bilbao (1464-1492)#071 | 71 | 1996 |
| Ordenanzas Municipales de Bilbao (1477-1520) | 70 | 1995 |
| Colección Documental del Archivo Municipal de Mondragón. Tomo IV (1471-1500)#069 | 69 | 1996 |
| Colección Documental del Archivo Municipal de Mondragón. Tomo III. (1451-1470)#068 | 68 | 1996 |
| Colección Documental del Archivo Municipal de Mondragón. Tomo II. (1400-1450)#067 | 67 | 1996 |
| Documentación medieval del monasterio de Santa Clara de Estella (siglos XIII-XVI)#066 | 66 | 1996 |
| Colección Diplomática del Archivo Municipal de Tolosa. Tomo II (1420-1499)#065 | 65 | 1995 |
| Colección Documental del Archivo Municipal de Hondarribia. Tomo II (1480-1498)#64 | 64 | 1995 |
| Archivo General de Navarra (1253-1270). Tomo II. Comptos y Cartularios Reales | 63 | 1996 |
| Colección Diplomática de los reyes de Navarra de la dinastía de Champaña. 3. Enrique I de Navarra (1270-1274)#062 | 62 | 1995 |
| Archivo General de Navarra (1274-1321), I. Documentación Real | 61 | 1995 |
| Documentación medieval del Archivo Municipal de Legazpia (1290-1495) | 60 | 1995 |
| Colección Diplomática de documentos gascones de la Baja Navarra (Siglos XIV-XV). Archivo General de Navarra. Tomo II | 59 | 1995 |
| Colección de documentos medievales del convento de San Bartolomé (San Sebastián) (1250-1515) | 58 | 1995 |
| Colección Documental del Archivo Municipal de Bergara. Tomo I (1181-1497) | 57 | 1995 |
| Libro de Acuerdos y Decretos Municipales de la Villa de Bilbao (1509 y 1515) | 56 | 1995 |
| Libro de Autos Judiciales de la Alcaldía (1419-1499) y Libro de Acuerdos y Decretos Municipales (1463) de la Villa de Bilbao#055 | 55 | 1995 |
| Álava en la Baja Edad Media a través de sus textos | 54 | 1994 |
| Colección Documental del Archivo Municipal de Orduña (1511-1520), de la Junta de Ruazábal y de la Aldea de Belandia. Tomo II#053 | 53 | 1994 |
| Colección documental del Archivo Municipal de Orduña (1271-1510). Tomo I | 52 | 1994 |
| Fuentes jurídicas medievales del Señorío de Vizcaya. Fueros de las Encartaciones, de la Merindad de Durango y de las Ferrerías#051 | 51 | 1994 |
| Colección Documental del Archivo Municipal de Oñati (1149-1492)#050 | 50 | 1994 |
| Documentos de Pedro I y Enrique II en el Archivo Municipal de Vitoria | 49 | 1994 |
| Colección Documental del Archivo Municipal de Hondarribia. Tomo I (1186-1479), 048 | 48 | 1993 |
| Colección Diplomática del Concejo de Segura (Guipúzcoa) (1290-1500). Tomo II (1401-1450)#047 | 47 | 1993 |
| Colección Documental de los Monasterios de Santo Domingo de Lequeitio (1289-1520) y Santa Ana de Elorrio (1480-1520)#046 | 46 | 1993 |
| Documentación medieval del Archivo Municipal de Azkoitia (m.s. XIII-1500), 045 | 45 | 1993 |
| Libro de visitas del Corregidor (1508-1521) y Libro de Fábrica de Santa María (1498-1517) de la villa de Lequeitio#044 | 44 | 1993 |
| Libro Padrón de la Hacendera Raíz de la villa de Lequeitio (1510-1556)#043 | 43 | 1993 |
| Colección Documental del Archivo Municipal de la villa de Lequeitio. Pleito sobre el monte Otoyo#042 | 42 | 1993 |
| Colección Documental del Archivo Municipal de Mondragón. Tomo I (1260-1400)#041 | 41 | 1992 |
| Colección Documental del Archivo Municipal de Lequeitio. Tomo IV. (1514-1520)#040 | 40 | 1992 |
| Colección Documental del Archivo Municipal de Lequeitio. Tomo III. (1496-1513)#039 | 39 | 1992 |
| Colección Documental del Archivo Municipal de Lequeitio. Tomo II. (1474-1495)#038 | 38 | 1992 |
| Colección Documental del Archivo Municipal de Lequeitio. Tomo I. (1325-1474)#037 | 37 | 1992 |
| Colección Diplomática del Archivo Municipal de Tolosa. Tomo I (1256-1407)#036 | 36 | 1991 |
| Colección Documental de Santa María la Real de Nájera. Tomo I (siglos X-XIV)#035 | 35 | 1991 |
| Libro viejo de Guipúzcoa del bachiller Juan Martínez de Zaldivia. Tomo II#034 | 34 | 1991 |
| Libro Viejo de Guipúzcoa del bachiller Juan Martínez de Zaldivia. Tomo I#033 | 33 | 1991 |
| Colección Documental del Archivo Municipal de Rentería. Tomo I (1237-1470)#032 | 32 | 1991 |
| Colección Documental de los Archivos Municipales de Guerricaiz, Larrabezua, Miravalles, Ochandiano, Ondárroa y Villaro#031 | 31 | 1991 |
| Colección Documental del Archivo de la Cofradía de Pescadores de la Villa de Lequeitio (1325-1520)#030 | 30 | 1991 |
| Colección Documental del Archivo Municipal de Valmaseda (1372-1518)#029 | 29 | 1990 |
| Valmaseda en el siglo XV y la aljama de los judíos | 28 | 1990 |
| Colección Diplomática de Alfonso I de Aragón y Pamplona (1104-1134)#027 | 27 | 1990 |
| Documentos navarros en lengua occitana | 26 | 1990 |
| Colección Diplomática de documentos gascones de la Baja Navarra (Siglos XIV-XV). Archivo General de Navarra. Tomo I | 25 | 1990 |
| Colección Documental de Santa María de Cenarruza. El Pleito de Otaola (1507-1510)#024 | 24 | 1989 |
| Colección Documental del Archivo Municipal de Durango. Pleitos. Tomo IV#023 | 23 | 1989 |
| Colección Documental del Archivo Municipal de Durango. Tomo III#022 | 22 | 1989 |
| Colección Documental del Archivo Municipal de Durango. Tomo II#021 | 21 | 1989 |
| Colección Documental del Archivo Municipal de Durango. Tomo I#020 | 20 | 1989 |
| Colección Documental del Archivo Municipal de Marquina (1355-1516)#019 | 19 | 1989 |
| Colección Diplomática del Archivo Municipal de Salvatierra (1256-1400)#018 | 18 | 1989 |
| Colección Documental de la villa de Plencia (1299-1516)#017 | 17 | 1988 |
| Colección Documental del Archivo Municipal de Elorrio (1013-1519)#016 | 16 | 1988 |
| Libro de Decretos y Actas de Portugalete (1480-1516)#015 | 15 | 1988 |
| Documentación Real a la provincia de Guipúzcoa. Siglo XV. Tomo II#014 | 14 | 1988 |
| Documentación Real a la provincia de Guipúzcoa. Siglo XV. Tomo I#013 | 13 | 1988 |
| Colección Documental del Archivo Municipal de Portugalete#012 | 12 | 1987 |
| Colección Diplomática de los Reyes de Navarra de la Dinastía de Champaña.Teobaldo I (1234-1253)#011 | 11 | 1986 |
| La Colegiata de Santa María de Cenarruza 1353-1515#010 | 10 | 1986 |
| Colección Documental del Archivo General del Señorío de Vizcaya#007 | 9 | 1986 |
| Fuentes Jurídicas Medievales del Señorío de Vizcaya. Cuadernos Legales, Capítulos de la Hermandad y Fuero Viejo (1342-1506)#008 | 8 | 1986 |
| Colección Diplomática de los reyes de Navarra de la dinastía de Champaña. Tomo 2. Teobaldo II (1253-1270)#007 | 7 | 1985 |
| Colección Diplomática del Concejo de Segura (Guipúzcoa) (1290-1500). Tomo I (1290-1400)#006 | 6 | 1985 |
| Diplomatario de Salinas de Añana. 1194-1465#005 | 5 | 1984 |
| Libro Becerro del Monasterio de Santa María de la Oliva (Navarra): Colección Documental (1132-1500)#004 | 4 | 1984 |
| Cartulario Real a la provincia de Álava (1258-1500)#003 | 3 | 1983 |
| Cartulario Real de Enrique IV a la provincia de Guipúzcoa (1454-1474)#002 | 2 | 1983 |
| Ordenanzas de la Hermandad de Guipúzcoa (1375-1463). Documentos | 1 | 1982 |