Ikastaria. Cuadernos de Educación
Lectura pedagógica de la realidad "vasco-brasileña"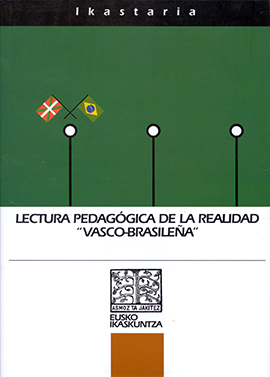 Author[s]: Ugartetxea, Arantxa [et al.]
Publication year:

2004

Publication place:

Donostia

Characteristics:

330 or. : ir. ; 24 cm. - (Non: Ikastaria. Cuadernos de Educación ; 13)

ISBN:

84-8419-887-1

ISSN:

1137-4446
Summary
The main intention of this work is to reflect pedagogically and from the emotional point of view, on aspects of "Basque -Brazilian" reality. Beginning with an exposé on the significance of the construction of the Brazilian identity. This is the story of some Basques in Brazil, as from the 16th century. This work ends with some interviews with Basques who at present live or have lived in Brazil. This work has in Errealitate Zirraragarria, the book by doctor Alfredo Soeiro, its necessary pedagogic reference.

Articles
Title