Monografías de EI
Revista Euskara (1878-1883) - T. I-VI [facs. ed.]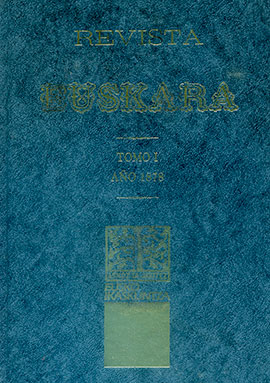 Author[s]: Lola Valverde, introd. y ed.
Publication year:

1996

Publication place:

Donostia

Characteristics:

Ed. faks.; 6 libk.; 22 cm

ISBN:

84-89516-20-0 O.C.
Summary
The Asociación Euskara de Navarra emerged as the pioneer of the movement of Basque cultural Renaissance in 1877. Between 1878 and 1883, it edited the Revista Euskara, that was the official and internal organ of that association. The purpose of both the Association and the Magazine was to "maintain and propagate Basque Navarran language, literature and history, study Basque and Navarran legislation and procure whatever is necessary for the moral and material well being of the country".
Articles
Title