Obras completas del Padre Donostia
Vol. X. Notas de Folklore del Padre Donostia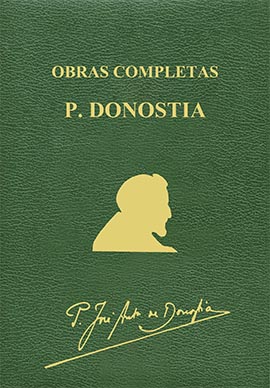 Author[s]: Emilio Xabier Dueñas, edit. lit.
Publication year:

2016

Publication place:

Donostia-San Sebastián

Characteristics:

LI, 1080 or. : ir. : partiturak ; 25 cm.

ISBN:

978-94-9419-274-9

Price, not member:

30 €

Price, member:

18 €
Summary
The Notas de Folklore (Folklore Notes) of Aita Donostia bring together 1.818 file cards dated between 1918 and the end of the 1950. They are ordered chronologically and by subject according to the main fields of cultural tradition. Oral literature, Superstitions, Games and dances or the Cycle of Life, among others, primarily manuscripts, product of the oral collection. Also grouped in these Folklore Notes are texts that appeared in different publications, especially the newspaper Euzkadi.
Edición patrocinada por Teresa Zulaica y Hermanos Menores Capuchinos.
Aurkibidea – Índice
Aurkezpena
Presentación
Aurretiko azterlana
Estudio preliminar
Kontsultatutako argitalpenak / Publicaciones consultadas
NOTAS DE FOLKLORE
Ficha metodológica
Ahozko literatura
Sineskeriak eta sinemenak / Supresticiones y crrencias
Hizkuntza eta toponimia / Lenguaje y toponimia
Elizari buruz / Relacionado con la Iglesia
Musika, dantza eta jokoa / La música, la danza y el juego
Jai-egutegia / Calendario festivo
Bizitzaren zikloa / Ciclo de la vida
Lana / Trabajo
Beste testu batzuk / Otros textos
Bibliografia / Bibliografía
Aurkibideak / Índices

Edukiaren aurkibidea / Índice de contenido
Gaikako aurkibidea / Índice temático
Aurkibide geografikoak / Índices geográficos
Dokumentuen aurkibidea eta kronologikoa / Índice de documentos y cronológico
Aurkibide onomastikoa / Índice onomástico
Aurkibide orokorra / Índice general
Articles
Title